This jeet kune do wisdom from four of Bruce Lee's most famous followers is guaranteed to further your understanding of his fighting art — and yours!
Black Belt contacted 16 well-known martial artists who teach jeet kune do or were heavily influenced by it to get their thoughts on the most important part of Bruce Lee's art. Part 1 features replies from Dan Inosanto, Tim Tackett, Kelly McCann and Joe Lewis.
Part 2 includes the answers we got from Burton Richardson, Matthew J. Numrich, Teri Tom and Richard S. Bustillo.
Here, in Part 3, Leo Fong, Bustillo (again), Paul Vunak and Gary Dill weigh in.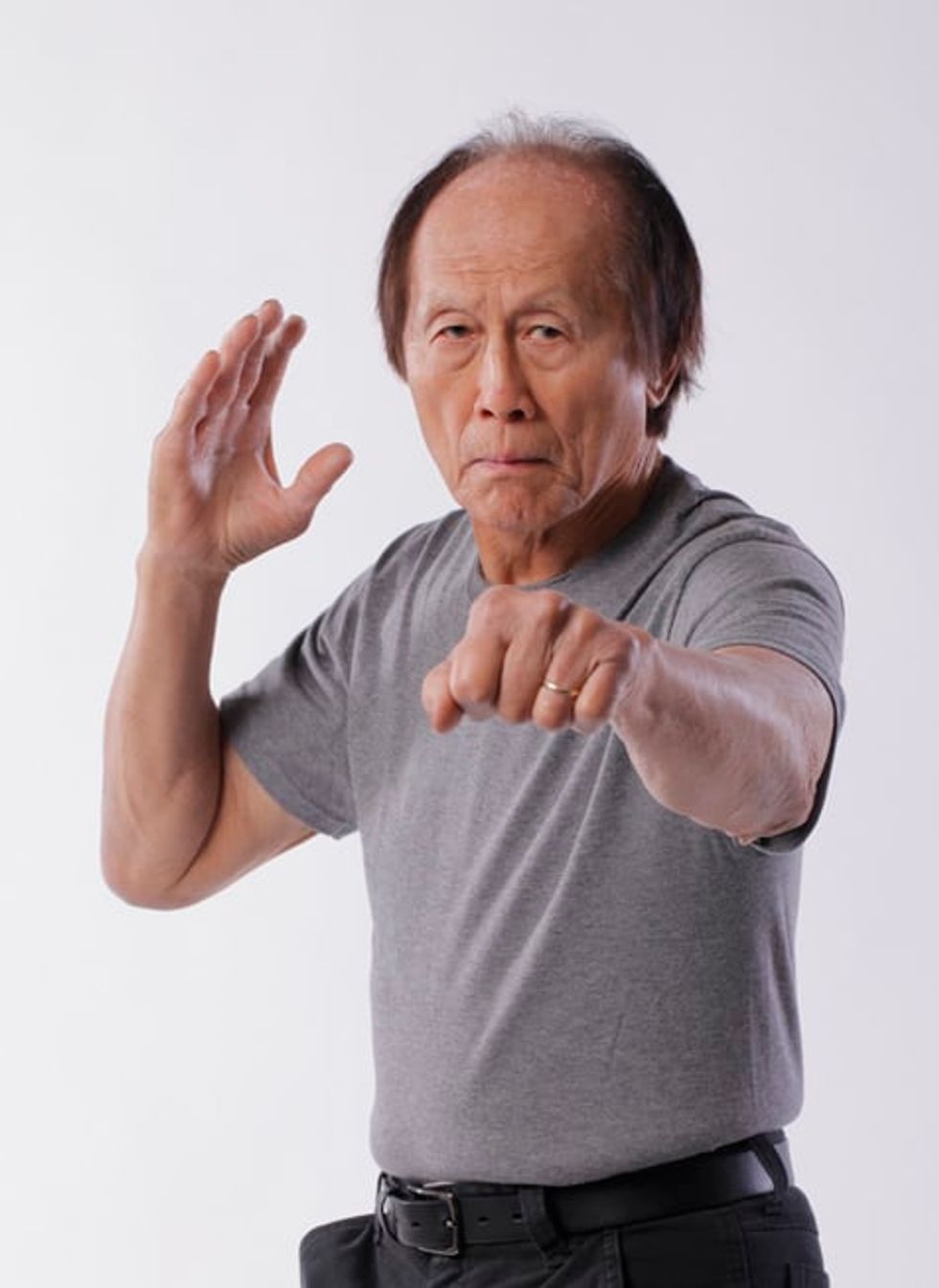 Photo by Peter Lueders
<strong><a href="http://blackbeltmag.com/daily/martial-arts-videos/traditional-martial-arts-videos/leo-fong-2006-kung-fu-artist-of-the-year/">LEO FONG</a></strong> <strong> </strong><span style="font-weight: bold;">First-Generation <a href="http://blackbeltmag.com/category/bruce-lee/">Bruce Lee</a> Student</span> <strong>Black Belt Hall of Famer</strong> <strong>Author of <a href="http://www.amazon.com/Beyond-Kung-Fu-Breaking-Opponents/dp/0897501799">Beyond Kung Fu</a></strong> I would teach the straight front-hand lead. It's what we in boxing call the left jab — assuming you use a left-hand-forward or orthodox stance. It can function as an offensive weapon, a counterattack weapon or a defensive weapon. The punch won't leave you completely exposed for your opponent's counter. One reason it's so effective is the axiom that the shortest distance between two points is a straight line. The front-hand lead is the technique that takes advantage of that. It's no coincidence that during my college competition years, the jab was my best weapon for setting up the left hook. <img class="rm-shortcode" data-rm-shortcode-id="fc4b72d03412c537445a2e8821d2bad8" data-rm-shortcode-name="rebelmouse-image" id="8cce8" type="lazy-image" data-runner-src="https://assets.rebelmouse.io/eyJhbGciOiJIUzI1NiIsInR5cCI6IkpXVCJ9.eyJpbWFnZSI6Imh0dHBzOi8vYXNzZXRzLnJibC5tcy8yMjkyMTExNy9vcmlnaW4uanBnIiwiZXhwaXJlc19hdCI6MTY0MzU4NjgzMH0.VfzlBUSiKNm8UlMTTvojOweH65pdDyVUDlm0E-hjP-8/img.jpg?width=980"/> <p style="text-align: center;"><em>Photo by Robert Reiff</em></p> <strong><a href="http://blackbeltmag.com/daily/martial-arts-videos/weapons-videos/stick-fighting-video-richard-bustillo-on-translating-sinawali-to-empty-hand-techniques/">RICHARD S. BUSTILLO</a></strong> <strong>President and Chief Instructor of the <a href="http://www.imbacademy.com/">IMB Academy</a></strong> <strong>First-Generation Bruce Lee Student</strong> <strong>Black Belt Hall of Famer</strong> To me, simple direct attack is the most important principle of self-defense. My fundamental rule is to strike immediately in response to an attack. In a street situation, there are no rules or officials to ensure a safe fight. You must train for accuracy and explosive speed so you can use the simple direct attack. <img class="rm-shortcode" data-rm-shortcode-id="bf94ebac4a528b327656e33e1b96dec3" data-rm-shortcode-name="rebelmouse-image" id="22d0c" type="lazy-image" data-runner-src="https://assets.rebelmouse.io/eyJhbGciOiJIUzI1NiIsInR5cCI6IkpXVCJ9.eyJpbWFnZSI6Imh0dHBzOi8vYXNzZXRzLnJibC5tcy8yMjkyMTA5MC9vcmlnaW4uanBnIiwiZXhwaXJlc19hdCI6MTYyOTQ0NDUwNn0.1QWm2alwSXPqpPef03wZ6gPcxxByYm8WIQUArw6EdPg/img.jpg?width=980"/> <em>Silat for the Street</em> is the title of a new online course from <em>Black Belt</em> Hall of Famer Burton Richardson and <em>Black Belt</em> magazine. Now you can learn the most functional silat techniques whenever and wherever you want on your smartphone, tablet or computer. <a href="http://bit.ly/1Yu3GXM">Get more info here!</a> The most important concept Bruce Lee taught is using no way as way. It gives you the advantage of an open mind, which enables you to express yourself freely in martial arts combat, business and life. You must train in all the combat ranges to be functional and to experience the concept. It involves acting mentally and physically in a natural way without limitation or bondage. <img class="rm-shortcode" data-rm-shortcode-id="bf50069a04d150c729256faa8500093b" data-rm-shortcode-name="rebelmouse-image" id="f249d" type="lazy-image" data-runner-src="https://assets.rebelmouse.io/eyJhbGciOiJIUzI1NiIsInR5cCI6IkpXVCJ9.eyJpbWFnZSI6Imh0dHBzOi8vYXNzZXRzLnJibC5tcy8yMjkyMTExOC9vcmlnaW4uanBnIiwiZXhwaXJlc19hdCI6MTY1MDc5MDc4M30.y30Oj_Hjwy0QQGBr4XYn4spdSYib5CqcCR9N7WBqK4A/img.jpg?width=980"/> <p style="text-align: center;"><em>Photo by Cory Sorensen</em></p> <strong><a href="http://blackbeltmag.com/daily/martial-arts-videos/jeet-kune-do-videos/contemporary-jeet-kune-dos-paul-vunak-holds-yearly-bruce-lee-bash-at-the-beach-helps-disabled-children-through-martial-arts/">PAUL VUNAK</a></strong> <strong>Self-Defense Expert</strong> <strong><a href="http://fighting.net/">Jeet Kune Do Instructor</a> Under Dan Inosanto</strong> Bruce Lee taught that one of the most neglected areas of the martial arts is state of mind, otherwise known as the "emotional dimension." When you're punching, kneeing, elbowing or biting someone, it's safe to assume that you'll be livid. The problem with fighting while you're livid is that 90 percent of your skill and training goes out the window. There's nothing you can do in life, even at a mediocre level, while you're in this emotional state — imagine trying to play basketball, change a tire or play Ping-Pong. <img class="rm-shortcode" data-rm-shortcode-id="a1d2dfc70b6f4c51084369143778059e" data-rm-shortcode-name="rebelmouse-image" id="6238b" type="lazy-image" data-runner-src="https://assets.rebelmouse.io/eyJhbGciOiJIUzI1NiIsInR5cCI6IkpXVCJ9.eyJpbWFnZSI6Imh0dHBzOi8vYXNzZXRzLnJibC5tcy8yMjkyMTExMC9vcmlnaW4uanBnIiwiZXhwaXJlc19hdCI6MTYyNDUxMTYxN30.fkB2X6SojZzFwNTgTRLyVgRSMWXdM2YDRm59L96wXQA/img.jpg?width=980"/><strong><a href="https://www.aimfitnessnetwork.com/courses/greg-jackson-mma-core-mixed-martial-arts-course">Check out the Greg Jackson Mixed Martial Arts Core Curriculum from Black Belt! Stream lessons to your digital device and start learning how to incorporate MMA tactics and techniques into your current art.</a></strong> . This is the paradox of the martial arts. Remember the axiom "Control follows awareness." Your first step in resolving the problem has already been solved — by simply reading this article, you're aware. One time in the 1970s during the wee hours of the night, I asked Dan Inosanto how Bruce Lee solved this paradox. He said, "Bruce seemed to have a switch that went from livid to relaxed." He was known to laugh, tell jokes and even give his opponents pointers while he was creaming them. All martial artists should spend more time learning to identify, differentiate and process their emotions. The attribute will transfer to everyday life, and you'll be on your way to spirituality. <p style="text-align: center;"><em><img class="rm-shortcode" data-rm-shortcode-id="c01e17e0eaaec888fd1410d259f81dcb" data-rm-shortcode-name="rebelmouse-image" id="a66e0" type="lazy-image" data-runner-src="https://assets.rebelmouse.io/eyJhbGciOiJIUzI1NiIsInR5cCI6IkpXVCJ9.eyJpbWFnZSI6Imh0dHBzOi8vYXNzZXRzLnJibC5tcy8yMjkyMTExOS9vcmlnaW4uanBnIiwiZXhwaXJlc19hdCI6MTY2MjQwNDg4MH0.NHge85iZ246qbsxv7pJ0T3mGerh3_ceQUfcdVJ9sRiI/img.jpg?width=980"/>Photo by Robert W. Young</em></p> <strong><a href="http://blackbeltmag.com/daily/traditional-martial-arts-training/jeet-kune-do/meet-james-yimm-lee-the-man-who-helped-make-bruce-lee-a-success/">GARY DILL</a></strong> <strong><a href="http://www.jkd-garydill.com/">Jeet Kune Do Instructor</a> Under James Lee</strong> <strong>Founder of the Jeet Kune Do Association</strong> <a href="http://blackbeltmag.com/category/jeet-kune-do/">JKD</a> consists of numerous techniques, principles and concepts. The first thing I teach my students is how to punch, both the straight-line punch and the backhand. It's not just about proper technique; it's also about how to generate speed and power. <img class="rm-shortcode" data-rm-shortcode-id="f059947a73a4a63a99fc83242682ccc1" data-rm-shortcode-name="rebelmouse-image" id="ad9eb" type="lazy-image" data-runner-src="https://assets.rebelmouse.io/eyJhbGciOiJIUzI1NiIsInR5cCI6IkpXVCJ9.eyJpbWFnZSI6Imh0dHBzOi8vYXNzZXRzLnJibC5tcy8yMjkyMTEwMS9vcmlnaW4uanBnIiwiZXhwaXJlc19hdCI6MTY0NzUyNzI3NX0.e_bk-QRP7HU5JiYOCnOVsjkYN6M6YSYKRztszgrr9gw/img.jpg?width=980"/><strong><a href="https://www.aimfitnessnetwork.com/courses/kelly-mccanns-combatives-self-defense-course">Kelly McCann's Combatives Self-Defense Course, a new remote-learning program from Black Belt, will help you fine-tune your street-defense skills using your tablet or smartphone!</a></strong> . You must have proper technique so your strikes are delivered in an efficient manner. Speed is necessary to deliver the attack before your opponent can respond. Power, which includes knowing how to shift your body weight, is required so you have knockdown potential. <em>(To be continued.)</em> <em><em>"Bruce Lee" is a registered trademark of <a href="http://www.brucelee.com/">Bruce Lee Enterprises LLC</a>. The Bruce Lee name, image and likeness are intellectual property of Bruce Lee Enterprises LLC.</em></em> <a href="http://blackbeltmag.com/daily/martial-arts-masters/bruce-lee/learn-the-most-important-martial-arts-lessons-bruce-lee-taught-from-his-top-disciples/">Read Part 1 of this article here.</a> <a href="http://blackbeltmag.com/daily/martial-arts-masters/bruce-lee/learn-the-most-important-martial-arts-lessons-bruce-lee-taught-from-his-top-disciples-part-2/">Read Part 2 of this article here.</a>