Cristiane Justino Venancio Santos is a Brazilian MMA fighter who's been called the biggest threat to Ronda Rousey's dominance in the UFC. Find out who she is and where she comes from.
To her fans around the world, she's a near-invincible fighter called "Cris Cyborg." To her friends and family, she's known as Cristiane Justino Venancio Santos. Either way, she's an MMA killing machine with a professional record of 10-1-1. Even while growing up in Curitiba, Brazil, she exhibited a love of competition. In high school, she built herself into a nationally ranked handball player. During a 2004 championship, she earned the attention of another competitor's parent — that man turned out to be Rudimar Fedrigo, head instructor at the Chute Boxe Academy. Chute Boxe is a renowned MMA gym in Brazil that started life as a muay Thai school. It's cranked out some fearsome fighters, including Wanderlei Silva, Mauricio "Shogun" Rua, Thiago Silva, Gabriel Gonzaga and Anderson Silva. Scoring an invite to train there, especially from the head instructor, was an honor Cyborg didn't fully appreciate at the time.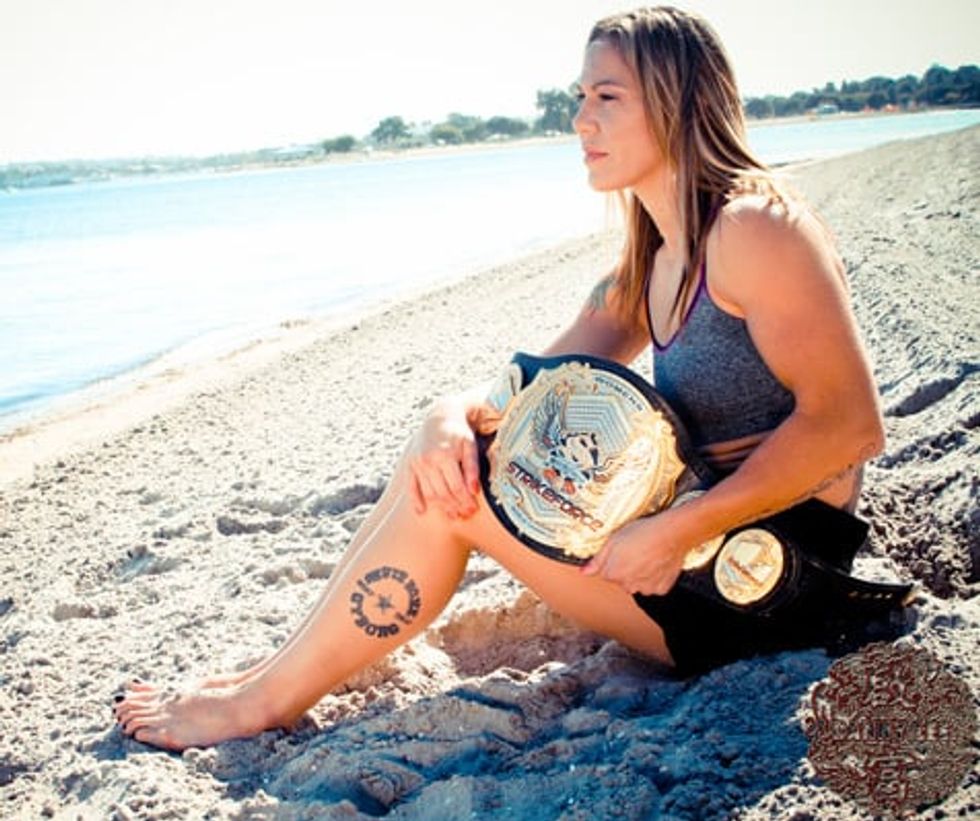 In an interview, Fedrigo was asked why he invited the teenager to his academy. He said that while watching her play handball, he was struck by her athleticism — she appeared much stronger and better-conditioned than everyone else. All that potential was too much to resist, he said, so he invited her to take a free muay Thai class.
<p style="text-align: center;"><strong><a href="http://www.amazon.com/Winning-Ground-Training-Techniques-Fighters/dp/0897502051/">Like grappling? Check out <em>Winning on the Ground: Training and Techniques for Judo and MMA Fighters,</em> a best-selling book written by AnnMaria De Mars (MMA star Ronda Rousey's mother) and James Pedro Sr. (judo champ Jimmy Pedro's father)!</a></strong></p> Cyborg took him up on his offer, and four months later she found herself registered for her first MMA fight. She lost via a <a href="http://blackbeltmag.com/daily/mixed-martial-arts-training/grappling/gokor-chivichyan-grappling-video-options-for-kneebars-and-heel-hooks/">kneebar</a>, then bounced right back and went the distance six months later against her next opponent, a far more experienced fighter, and wound up winning a unanimous decision. The fighting phenom won her next three bouts, all via vicious KOs. It proved increasingly tough to find victims — rather, opponents — so Cyborg executed a course correction and began competing in muay Thai, <a href="http://blackbeltmag.com/category/brazilian-jiu-jitsu/">Brazilian <em>jiu-jitsu</em></a> and <a href="http://blackbeltmag.com/category/wrestling/">wrestling</a>. In 2008 she signed with the EliteXC promotion and proceeded to defeat Shayna Baszler in her first bout. <img class="rm-shortcode" data-rm-shortcode-id="6d438717e82662c8b1530fbb096f1bdf" data-rm-shortcode-name="rebelmouse-image" id="b7dd2" type="lazy-image" data-runner-src="https://assets.rebelmouse.io/eyJhbGciOiJIUzI1NiIsInR5cCI6IkpXVCJ9.eyJpbWFnZSI6Imh0dHBzOi8vYXNzZXRzLnJibC5tcy8yMjkyMDkyOC9vcmlnaW4uanBnIiwiZXhwaXJlc19hdCI6MTYxNjM4NTM5MX0.bd5o_YlCYNFhkj1_m-QTpukBEvEKq_m-9BvZbJ8Claw/img.jpg?width=980"/> Cyborg stayed with EliteXC for another fight, then signed with Strikeforce. Her first mission was to take on featherweight champion Gina Carano. The Brazilian knocked her out before the end of the first round. Cyborg defended her title against three more opponents, winning with a knockout every time. After what would become her final title defense — a 16-second KO of Hiroko Yamanaka in December 2011 — Cyborg tested positive for a banned substance. <p style="text-align: center;"><strong><em><a href="http://www.amazon.com/21st-Century-Warriors-Mixed-Martial-Champions/dp/0897501772/">21st Century Warriors: Fighting Secrets of Mixed-Martial Arts Champions includes the likes of Matt Serra, Renzo Gracie, Gokor Chivichyan, Gene LeBell, Renato Magno, Randy Couture and Gina Carano. Order the book here.</a></em></strong></p> Taking full responsibility for the infringement, she said it wasn't intentional and apologized for not being more diligent in screening the supplements she took. The Yamanaka bout was changed to a no contest, and Cyborg was suspended for one year. That suspension ends in January 2013. Because top-notch female fighters are still few and far between in the MMA world, the number of women in the 145-pound division ready to challenge Cyborg is precisely zero. That brings us to the present: MMA sensation and current Strikeforce bantamweight champ <a href="http://blackbeltmag.com/daily/mixed-martial-arts-training/grappling/ronda-rousey-mma-fighter-and-olympic-judo-champion-demonstrates-how-mat-work-connections-are-the-key-to-winning-on-the-ground/">Ronda Rousey</a> has called out Cyborg. <img class="rm-shortcode" data-rm-shortcode-id="92caeef119651d5918d31ce27af2ff76" data-rm-shortcode-name="rebelmouse-image" id="eaf1e" type="lazy-image" data-runner-src="https://assets.rebelmouse.io/eyJhbGciOiJIUzI1NiIsInR5cCI6IkpXVCJ9.eyJpbWFnZSI6Imh0dHBzOi8vYXNzZXRzLnJibC5tcy8yMjkyMDkzMC9vcmlnaW4uanBnIiwiZXhwaXJlc19hdCI6MTYyOTMzMDE5Nn0.iO79MkL4pqoBbAItvzGchBKNhtsVuY8-rPtWHXqzLeI/img.jpg?width=980"/> <em>Ronda Rousey</em> If you think such a match would be easy to arrange, think again. Rousey insists that Cyborg drop to 135 pounds, while Cyborg maintains that medical experts have advised her against cutting that much weight because it would create a dangerously low level of body fat. Nevertheless, if fan interest stays high, the match could come about in 2013. If it does, it'll certainly be one of the biggest MMA events of the year. In the meantime, Cyborg keeps busy much the same way she did earlier in her MMA career when no one would fight her — by competing in other martial arts events. In 2011 and 2012 she placed first in the female purple-belt division at the <a href="http://ibjjf.org/">IBJJF</a> World Jiu-Jitsu Championship. Obviously, her skills are still sharp and her drive is still there. Fans can be certain that once she's free to fight again, sparks are going to fly. <strong>Update:</strong> Since this article appeared in a 2013 special issue of <em>Black Belt,</em> Cyborg, now 30, has resumed her MMA career. <a href="http://www.sherdog.com/">Sherdog.com</a> lists <a href="http://www.sherdog.com/fighter/Cristiane-Justino-14477">her record</a> at 14-1-1. She continues to be considered the female fighter with the best chance of giving Ronda Rousey a run for her money. Noting that Cyborg has signed with the <a href="http://www.ufc.com">UFC</a>, many MMA fans remain hopeful this will happen. <em>(Cris Cyborg Photos Courtesy of Stanley Day • Ronda Rousey Photo by Peter Lueders)</em>