If you trained under a boxing coach, this is how you'd learn to execute the lead hook and the rear uppercut. When you're done reading, click the link to examine the lead jab and the rear cross!
Punch No. 3: Lead Hook
The
boxing
lead hook is a more or less rounded
punch
made with the leading hand. It whips around to the side of the opponent's face or midsection, then snaps back. The hook draws power from
translation,
but this takes place in a manner unlike the jab or cross. Because the punch hits sideways, translation in the hook occurs when the bodyweight shifts from the side of the leading leg to the side of the rear leg. Power is added as the hips and shoulders rotate in the direction of the blow.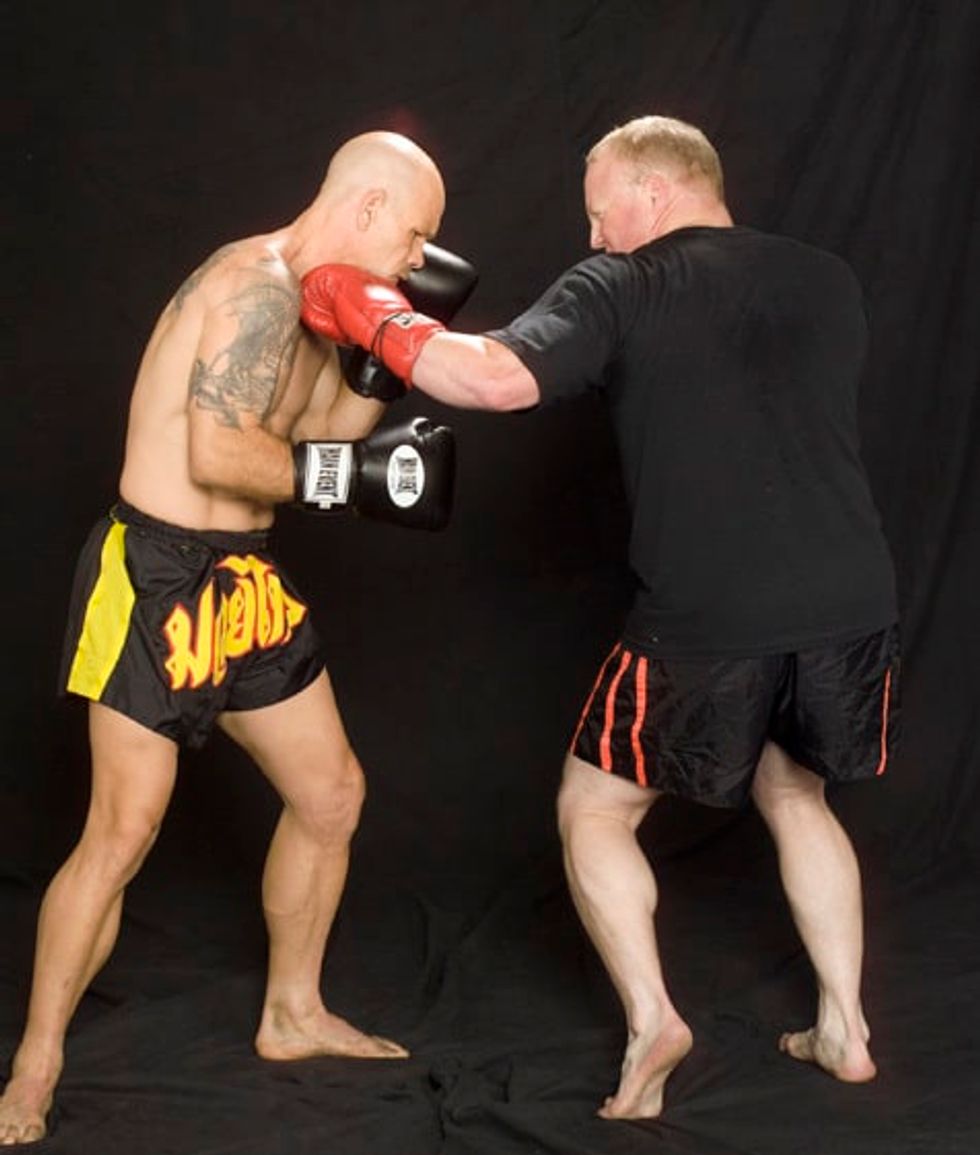 Lead hook to the chin
<em>Extension</em> in the hook mainly involves the flexion of the shoulder, with a quick snap to finish the sequence. The arm and wrist straighten only enough to contact the target, adding little <a href="http://blackbeltmag.com/daily/traditional-martial-arts-training/kung-fu/generate-more-power-in-your-punches-using-this-traditional-kung-fu-training-method/">power</a> but whipping out from the shoulder loosely and quickly, and tensing only at the moment of impact to provide a solid connection between the fist and the entire weight of the body. It lands with the palm facing you. <strong>Punch No. 4: Rear Uppercut</strong> Boxing's rear uppercut is a rounded punch made with the rear hand. It drives forward and upward at the opponent's face or midsection, then snaps back. In the uppercut, translation is forward — as with the jab and cross — but to this is added a shifting of the bodyweight to the leading leg. This is the opposite of what takes place with the hook. <p style="text-align: center;"><img class="rm-shortcode" data-rm-shortcode-id="11d8ae1c130e48aa6e1283833402c78a" data-rm-shortcode-name="rebelmouse-image" id="85213" type="lazy-image" data-runner-src="https://assets.rebelmouse.io/eyJhbGciOiJIUzI1NiIsInR5cCI6IkpXVCJ9.eyJpbWFnZSI6Imh0dHBzOi8vYXNzZXRzLnJibC5tcy8yMjkyMDk4NS9vcmlnaW4uanBnIiwiZXhwaXJlc19hdCI6MTY1NzMxMjQyM30.L_9s28GhhfPbpBFQBi1760sn2nouI9I4U3tjxwz5Th0/img.jpg?width=980"/><em>Rear uppercut</em></p> The uppercut also involves an upward shifting of the bodyweight, driven by a short, quick straightening of the knees. This is a lot of weight shifting; it accounts for at least some of the power of the uppercut — less when the target is closer and more when it's farther away. Most of the power comes from the <em>rotation</em> of the hips and shoulders in the direction of the punch. Then extension tops off the sequence. The arm and wrist straighten only enough to contact the target, adding little power but whipping out from the shoulder loosely and quickly, and then tensing at the moment of impact to provide a solid connection between the fist and the body. It lands with the palm facing you. <strong>Punch Training</strong> These four punches of boxing are best learned with the help of a partner or trainer with focus gloves. The partner holds the gloves at head height but just outside your range. You take a short step forward to deliver the jab to the glove opposite the hand you're using. For example, hit the left glove if you're jabbing with your left hand. The partner checks your form, making sure that you don't "telegraph" the punch, that you don't drop your other hand from the guarding position, and that you return your jabbing hand to its guarding position and slide your rear foot forward to catch up with your body as soon as the punch is completed. Then he takes a small step backward, and the exercise is repeated, with you and your partner moving back and forth across the floor. In the same fashion, the cross can be learned on the focus gloves. Again, you punch to the glove opposite the hand you're using, and your partner checks your form. Then he takes a small step backward. <p style="text-align: center;"><img class="rm-shortcode" data-rm-shortcode-id="17a3b445a85af99f5ebbf92969302563" data-rm-shortcode-name="rebelmouse-image" id="8dc5c" type="lazy-image" data-runner-src="https://assets.rebelmouse.io/eyJhbGciOiJIUzI1NiIsInR5cCI6IkpXVCJ9.eyJpbWFnZSI6Imh0dHBzOi8vYXNzZXRzLnJibC5tcy8yMjkyMDk4Ni9vcmlnaW4uanBnIiwiZXhwaXJlc19hdCI6MTYxNzg0MzAzMX0.eb4W8CCJcgwrxc1e13i5oJycmgIab7AhUfoNcE08ywg/img.jpg?width=980"/><em>Hook training on a heavy bag</em></p> When learning the hook, your partner turns the glove inward so your punch lands while moving sideways. When learning the uppercut, he turns it downward so the punch lands while moving upward. For boxers training for competition, learning to deliver punches only from the right or left stance may be sufficient, but a martial artist must be able to deliver them from both stances. As soon as you learn each punch on your strong side, change to your weak side and practice. Eventually, you'll be able to deliver powerful punches with either hand. All boxing gyms have mirrors. Use them to get feedback as you work to perfect your timing and form. <strong>Getting Serious</strong> When it comes to <a href="http://blackbeltmag.com/daily/martial-arts-masters/kelly-mccann/get-fit-to-fight-with-kelly-mccanns-combative-conditioning-exercises/">developing solid punches</a>, there is no substitute for working on the heavy bag. Practice with the bag held stationary and with it swinging freely. Practice delivering the punches from a stationary position and while moving in, out, to the left, to the right, and up and down. In all exercises, concentrate on breathing correctly. The sports maxim "breathe out on the power stroke" applies no less to boxing, and a sharp exhalation as you deliver each punch will put dynamite into it and make you less vulnerable to being hit in the midsection as you attack. In all exercises, concentrate on focus. This is really more of an attitude than a technique. Cultivate the habit of hitting not just with your fist but with your body, mind and spirit; of hitting with confidence and commitment; and of hitting not just at the target but through it. Focus is the key to delivering effective punches; it is the very essence of a fighting spirit. <p style="text-align: center;"><strong><em><a href="http://blackbeltmag.com/freeguides/bruce-lee-training-research-how-boxing-influenced-his-jeet-kune-do-techniques/">Click here to download a free guide titled "Bruce Lee Training Research: How Boxing Influenced His Jeet Kune Do Techniques."</a></em></strong></p> Once these four basic punches have been learned, it's a good idea to practice them in the sequence they've been discussed: jab, cross, hook and uppercut. This combination, often used by trainers, is called the "one-two-three-four." It teaches proper translation, rotation and extension because it makes use of an important principle of all fighting arts: Each blow, if properly delivered, should leave you in a perfect position to deliver the next one in the sequence. The one-two-three-four combination should be practiced with the individual punches alternating from head level to midsection level. In this way, dozens of variations can be developed and perfected. Learning just these four basic boxing punches and how to deliver them in combinations will go a long way toward making you a knockout puncher. Incorporating them into your martial art by combining them gracefully with your other strikes, kicks and throws will be a lifelong challenge. But as with most things in life, the journey is its own reward. <em><a href="http://blackbeltmag.com/daily/mixed-martial-arts-training/boxing/4-punches-perfected-learn-to-strike-the-way-boxers-do-part-1/">Read Part One of this post here.</a></em> <em>(Photos by Rick Hustead)</em>