Because I'm somewhat familiar with the Black Belt Mag demographic, I can safely say there's a good chance you're a lot like me. You probably grew up in the martial arts, and when The Karate Kid came out in 1984, you loved every minute of it.
You likely watched The Karate Kid Part II when it was released in 1986 and fantasized about jetting to Okinawa to learn karate (and perhaps to fall in love with a local lad or lass).
You might have been somewhat less enthusiastic about The Karate Kid Part III (1989, with Terry Silver: "A man can't stand, he can't fight!") and The Next Karate Kid (1994, with Hilary Swank assuming the role of the student in need of Mr. Miyagi's morality), but still you watched — and in all likelihood reminisced about your formative years in the arts.
Cobra Kai Uniform - Black Belt Magazine Store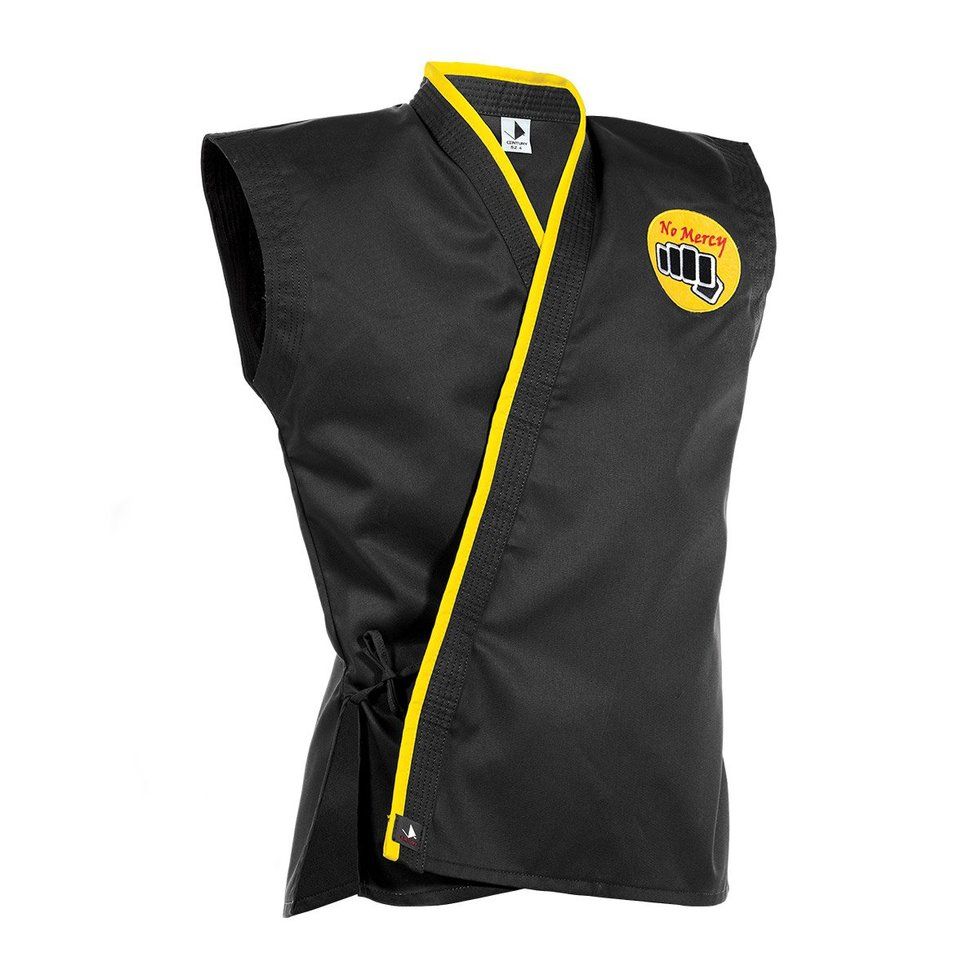 Strike hard and show no mercy with an authentic Cobra Kai uniform.
Then came the black hole, the period when seemingly no martial arts movie could capture the philosophical side of our passion — you know, the reason we all train for life. Fortunately, that black hole collapsed in on itself when YouTube announced in 2018 that it was resurrecting the Karate Kid storyline in the form of a series called Cobra Kai.
<p>We all waited with bated breath for <em>Cobra Kai</em> to debut, and when it did, we were pleased with the direction it took, with more philosophy, better fights and deeper characters — including the bully Johnny Lawrence, who now has a sympathy-inducing backstory, and Daniel LaRusso, who seems to have grown into an often-annoying adult. Even though many of us didn't have a subscription to YouTube Red, we devoured the first season when it was made available for free.</p><p>But afterward, we said to ourselves, "That was great, but I don't need another subscription to a streaming service. I already get Netflix. Besides, I don't have a lot of free time — I'd rather be training!" So we let it go. And then YouTube revealed that Season 3 of <em>Cobra Kai</em> was not happening. Bummer!</p><p class="shortcode-media shortcode-media-youtube"> <span style="display:block;position:relative;padding-top:56.25%;" class="rm-shortcode" data-rm-shortcode-id="a655fb67f14a1fbc4185adc9bf6f5d86"><iframe type="lazy-iframe" data-runner-src="https://www.youtube.com/embed/xVDyJYKtPBY?rel=0" width="100%" height="auto" frameborder="0" scrolling="no" style="position:absolute;top:0;left:0;width:100%;height:100%;"></iframe></span> <small class="image-media media-caption" placeholder="Add Photo Caption...">Official Cobra Kai Season 3 Trailer: One Dojo, Two Broken Hearts</small> <small class="image-media media-photo-credit" placeholder="Add Photo Credit..."> <a href="https://www.youtube.com/watch?v=xVDyJYKtPBY" target="_blank">www.youtube.com</a> </small> </p><p>Well, as they say, when one door closes, another opens. Soon after YouTube announced the demise of <em>Cobra Kai,</em> Netflix, which many of us already have a subscription to, said it was picking up the series and ordering Season 3. Even better, Netflix made Seasons 1 and 2 available on its service. Contrary to the <em>Cobra Kai</em> creed, Netflix showed mercy on all the <em>Karate Kid</em> fans who never had a chance to binge the first two seasons. Which we did immediately. At that point, it became clear…<br/></p><p>The reason <em>Cobra Kai</em> resonates with fans of <em>Karate Kid</em> — and is gaining plenty of new ones — is it hearkens back to the good old days of the martial arts. Through plausible scenes set in the present and pertinent flashbacks from the films, we see that beer-swilling Johnny is the product of a dysfunctional family. We see that Daniel-<em>san</em> also has issues, including the loss of his beloved Mr. Miyagi and a video-game-obsessed son who thinks karate is for losers. We also witness the struggles Daniel must endure as he takes on the mantle of Miyagi and grooms a student — and competitor — of his own.</p><p class="shortcode-media shortcode-media-rebelmouse-proxy-image shortcode-media-rebelmouse-image image-crop-16x9"> <img type="lazy-image" data-runner-src="https://blackbeltmag.com/media-library/eyJhbGciOiJIUzI1NiIsInR5cCI6IkpXVCJ9.eyJpbWFnZSI6Imh0dHBzOi8vYXNzZXRzLnJibC5tcy8yMzkxODUyNS9vcmlnaW4uanBnIiwiZXhwaXJlc19hdCI6MTYyNDE2OTI3Mn0.8lrSkPOUng7nAhtXCxuJ4zNs4UCVchcKebgF12jETVw/image.jpg?width=1245&coordinates=0%2C4%2C0%2C4&height=700" id="b30d4" class="rm-shortcode" data-rm-shortcode-id="c01c776aa66ca0e90d8653e8c40f7963" data-rm-shortcode-name="rebelmouse-image" alt="Karate Kid Miyagi" /> <small class="image-media media-photo-credit" placeholder="Add Photo Credit..."> <a href="https://www.gannett-cdn.com/-mm-/75b789dca58d5584dd0f2d751286fe5c13cae103/c=0-0-2998-1694/local/-/media/2018/04/30/USATODAY/USATODAY/636606853814641615-karatekidoriginalphoto.jpg?width=2998&height=1694&fit=crop&format=pjpg&auto=webp" target="_blank">www.gannett-cdn.com</a> </small> </p><p><strong>Not a spoiler alert:</strong> The episode of <em>Cobra Kai</em> that features the 2018 All Valley Karate Tournament rocks!<br/></p><p>So there you have the sitrep. The first 20 episodes of <em>Cobra Kai</em> are on Netflix now, with Season 3 scheduled for release in 2021. Viewers already have witnessed the return of several familiar faces from the original films — I won't name those names here because discovering them in real time is half the fun. All I can say is that <em>Cobra Kai</em> is a breath of fresh air in the martial arts movie genre, which, thanks to Hollywood, is all too often preoccupied with tales of you-killed-my-brother vengeance and underground death matches.</p><p>In short, <em>Cobra Kai </em>is a series based on scenarios that any of us could find ourselves in — and then talk about without straining the listener's credulity. I can't wait for Season 3.</p><p><br/></p><p style="text-align: center;"><strong><u>Update on My Love Affair With Cobra Kai</u></strong></p><p>I just finished watching Season 1 of <em>Cobra Kai</em> for the second time. Now I …<br/>• find myself wondering if <em>dojo</em> wars still take place in America<br/>• am a big fan of Miguel Diaz, nicely portrayed by Xolo Maridueña (I wasn't a fan the first time I watched the series)<br/>• want to construct a Japanese garden in my backyard (once I get a backyard, that is)<br/>• am still an admirer of Aisha Robinson, masterfully played by Nichole Brown. She rocks! ("Miss Robinson, unflinch this group!")<br/>• flirt with the notion of teaching karate<br/>• am on the fence about whether I'm still a fan of Hawk, skillfully played by Jacob Bertrand (I was, but less so after his performance at the All Valley Tournament and in subsequent episodes)<br/>• am more inclined to rock out to songs from the '80s<br/>• desperately need a <a href="https://www.centurymartialarts.com/cobra-kai-uniform-0431" target="_blank">Cobra Kai uniform</a> and a Miyagi-do Karate uniform!</p><p class="shortcode-media shortcode-media-rebelmouse-image"> <img type="lazy-image" data-runner-src="https://blackbeltmag.com/media-library/eyJhbGciOiJIUzI1NiIsInR5cCI6IkpXVCJ9.eyJpbWFnZSI6Imh0dHBzOi8vYXNzZXRzLnJibC5tcy8yNDQwMTk3OS9vcmlnaW4uanBnIiwiZXhwaXJlc19hdCI6MTY0MjcyMDI3MX0.FRqUfktumt5585fJeYkkZqFNt7-KSKbrny0XVPulenQ/image.jpg?width=980" id="146d2" class="rm-shortcode" data-rm-shortcode-id="154e2aaf7031c7b7d9f72b8e74dccca8" data-rm-shortcode-name="rebelmouse-image" /> </p><p><em>Martin Kove (John Kreese) and William Zabka (Johnny Lawrence) when they were guests of honor at the 2018 <a href="https://www.masupershow.com/" target="_blank">Martial Arts SuperShow</a>.</em></p><p>Story and final photo by <em>Robert W. Young, Editor, Black Belt</em><br/></p>