Creating an At-Home Martial Arts Space for Kids
Are you stuck at home with kids who are driving you crazy? Looking for positive ways to help them burn off excess energy? Whether your kids are staying at home due to COVID-19 closures or inclement weather, martial arts can be a perfect way to help them stay active and reduce the energy that can lead to boredom and stress. Of course, you will need to create a martial arts space before you get your kids started with this beneficial hobby, and these helpful tips can help you create a killer space for karate and other martial arts in the comfort of your own home.
---
Invest in Quality Cleaning Supplies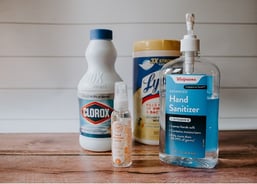 Gyms and studios across the country have been closed for weeks, and that's because the surfaces in these businesses can become breeding grounds for viruses and bacteria. The same can be true for fitness spaces in your home, so you should start this process by picking up disinfectants that will keep your family safe while they work out and practice. For stains, dirt, viruses, germs and bacteria, your best bet is to use a bleach-based disinfectant.
You may be able to score these products in-store or online but also keep in mind that supplies may be currently limited due to the COVID-19 pandemic, so be prepared to be patient with shopping. Because being able to disinfect surfaces is so important, you may want to wait to build your at-home martial arts studio until you can get your hands on some quality cleaning products.
Quick note: Don't buy more cleaning supplies than you need – remember, you're not the only one using them!
Invest in Shock-Absorbing Flooring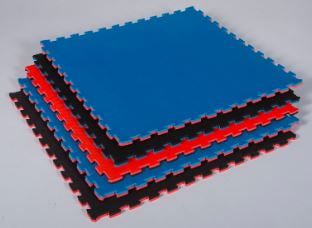 Whether your children will be sparring in your new martial arts space or just practicing their kicks, having a safe and soft floor can help keep them protected. If you have the room in your budget and can get your hands on them, buying a few martial arts floor mats could be your best option for a practice space. Puzzle mats are simple to install in any room in your home and are soft for falls. Another option for protecting your children and your floors is to pick up crash pads, which have a lot more cushioning than rubber flooring. These pads are typically used by climbers but can come in handy for other activities as well.
Buy Some Basic Martial Arts Gear
Setting up a martial arts space is simple, but you'll want to ensure that your kids have some essential martial arts equipment to encourage their new hobby. For an at-home practice, picking up some training equipment should provide your children with the basics they need. Gloves, shin guards and headgear are especially important if your children will be throwing punches or kicks, so make these equipment purchases your top priority. You may also want to buy things like wraps and mouth guards. In terms of other gear, what your child needs can depend on which type of martial art they plan to practice.
Stream Online Martial Arts Classes
If you're looking to get your children interested in martial arts, the timing couldn't be more perfect. Because right now, you can find low-cost and free martial arts classes online from some of the world's top instructors, which you can stream using your laptop, TV, tablet, or smartphone. Once you have your new martial arts space set up, check out these classes to provide your children with some instructions for getting started. Many of these classes are for adults, but they can still be helpful for older children and teens. Looking for other martial arts-themed fun to keep your kids entertained? Try watching one of these kid-friendly movies.
Martial arts can help kids and adults make the most of time at home. So, use the advice above to create your own space and get kids interested in martial arts.
Introducing Martial Arts School Listings on Black Belt Mag!
Sign Up Now To Be One Of The First School Listed In Our Database.