The First American Female Martial Arts Movie Star
Black Belt Magazine Archives
Cynthia Rothrock made a name for herself in Hollywood as the first female authentic martial artist to make it big in the movie business.
When you think of martial arts action movie stars, names such as Jean-Claude Van Damme, Jet Li, Jackie Chan and Bruce Lee come to mind. Just as important is Cynthia Rothrock.
---
Early Years
Rothrock was born in Delaware in 1957 though she grew up in nearby Pennsylvania. She first got involved with martial arts at the age of 13. While she was just 5'3", she quickly demonstrated a knack for the sport. She competed both nationally and internationally throughout the early 1980s and obtained incredible success.
In fact, she was a world champion in both weapons and forms for five straight years. In her first 38 tournaments, she got first place in the weapon division 12 times and first place in the forms division 32 times. Even more impressively, she often went up against men in these contests. She earned the Grand Master title in five tournaments, as well.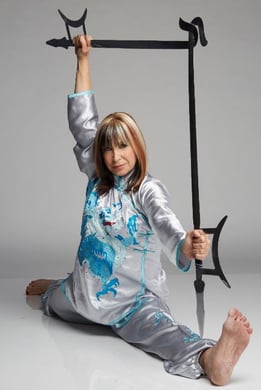 Cynthia Rothrock began her career as an expert in Tang Soo Do, a Korean martial art. She currently has an eighth-degree black belt in this discipline.
However, Rothrock did not stop there. She has black belts in six other martial arts: Northern Shaolin, Eagle Claw, Taekwondo, Pai Lum Tao Kung Fu, Karate and Wu Shu.
Along the way, Rothrock broke barriers in the industry. In 1981, she became one of the first women to grace the cover of a martial arts magazine. Two years later, she was inducted into the Black Belt Magazine Hall of Fame.
Rothrock is also one of the few martial artists, male or female to be part of both the Kung Fu Hall of Fame and the Black Belt Hall of Fame.
Acting Career
In 1983, Cynthia Rothrock appeared in a Kentucky Fried Chicken commercial. She was one of five athletes chosen for a series of ads featuring masters of their crafts.
That same year, she was discovered by Golden Harvest Films. Within two years, she had landed the lead role in the martial arts movie Yes, Madam. The movie also starred Michelle Yeoh, who went on to appear in Crouching Tiger, Hidden Dragon and Tomorrow Never Dies.
Yes, Madam was a smash hit, making Rothrock the first American female martial arts action star. She remained in Hong Kong, where she had filmed Yes, Madam, over the next few years. She made seven additional movies during that time.
Here's a compilation if you want some of the best kick-butt scenes from all her works!
Cynthia Rothrock returned to the United States in the 1990s after being offered a role in the Chad McQueen movie
Martial Law. Rothrock appeared in the sequel the following year, as well.
From there, Rothrock made a career in action movies. Some of her most well-known films include Guardian Angel, China O'Brien, Top Squad, Tiger Claws, Eye for an Eye and Lady Dragon. This last film gave Rothrock one of her nicknames.
Rothrock also made several television appearances. She played Bertha Jo in the Dukes of Hazzard reunion movie and guest-starred on an episode of the series Hercules: The Legendary Journeys. Rothrock was even the inspiration for the Sonya Blade character in the Mortal Kombat video game.
Current Projects
While Cynthia Rothrock technically retired in 2004, she has continued to act since then. She played Mona in the 2014 flick Mercenaries, which also starred Vivica A. Fox and Brigitte Nielsen.
Rothrock has also appeared in some family films, including Santa's Summer House and The Martial Arts Kid. In the latter movie, she appeared alongside fellow martial artist/actor Don "The Dragon" Wilson. A sequel to that film, also starring Wilson and Rothrock, is currently in pre-production.
Her other upcoming projects include the miniseries Diary of a Lunatic and the movie No Way Back. When she is not acting, Rothrock runs a martial arts studio in California and spends time with her daughter.
In 2014, Rothrock became the first martial artist inducted into the International Sports Hall of Fame. Don Wilson joined her the following year. Other martial artists to receive this prestigious honor include Michael Jai White and Royce Gracie.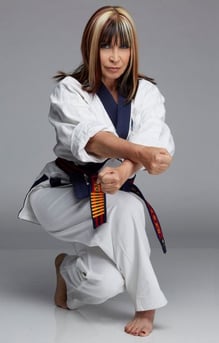 Cynthia Rothrock has clearly come a long way from her days as an aspiring martial artist in Pennsylvania. She has shown that with hard work and passion, you can overcome barriers and make a name for yourself.
Introducing Martial Arts School Listings on Black Belt Mag!
Sign Up Now To Be One Of The First School Listed In Our Database.