Century Product Review: Self-Defense Keychains
Century does a fantastic job providing great products to their customers, including self-defense products. Self-defense keychains are quintessentially popular for a few reasons: they're simple to use without training, ready-to-use (no unsheathing or loading), and it's almost impossible to forget something that's literally attached to your keys.
In this blog, I'm going to review three of the most-popular self-defense keychains you can get from Century, ranked from my least- to most-preferred, as well as my professional opinion and reasons why. All of these are considered force-multipliers, and can do a great deal of damage if used correctly. With that being said, just relying on the tool to save you isn't enough – get training in how to use it. That way you'll set yourself up for success and not fall victim to circumstance.
---
This keychain is made from an impact-resistant plastic that held up well in our strength tests. It's lightweight, and you can take it anywhere (it's legal in all 50 states to carry, and you can even take it on a plane). This makes it an effective tool for the usability factor alone – whether you're out on a jog in your neighborhood or just deplaning from a flight in a new city. It goes where you go.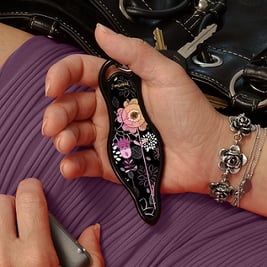 The Munio offers a few striking options. If you're attacked from behind while holding it, and can't jab someone with the pointed end, as long as you had keys attached you could use it as a makeshift flail, striking over your shoulder.
The preferred way of using a Munio is to hold it in a hammer grip and strike with the pointed end. The Munio isn't necessarily intended to puncture (although with enough force, it can), but to serve as a force amplifier. You can effect damage against soft targets like the inside of the knee, groin, neck/throat, eyes, etc.
All-in-all, it's a solid product and will get the job done. However I would have liked to see it made from a thicker plastic.
If you want to up the ante a little bit, the Bulldog is for you. Designed strictly for self-defense, the points will certainly penetrate skin and leave a nasty mark on anyone who decides to attack you. If you catch someone's eye with one of the dog's "ears," you could potentially blind them on the spot.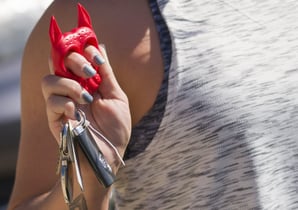 There are some downsides, however. They count as a "knuckle weapon" in several states, including California, Illinois, Michigan and Vermont, and aren't legal (they're a-OK in my home state of Texas, though!).
The head of the dog is well-sized to fit comfortably in the palm of your hand – which is great for grip, but makes it difficult if not impossible to conceal. Also, if you want to use it most effectively, you need to have your fingers through the eyes. Trying to dig through your purse as an attack happens won't be an option, so if you do decide to carry one make sure it's out and ready to go before you start your walk to the car.
The Bulldog is a great choice for someone wants something that's straight and to the point, and who is already aware of the laws in their state and where they can or cannot carry it. It's very reliable: Hit someone with this thing and it's going to make anyone think twice – props to Century for offering this.
Sometimes, the simplest option is the best, and that's why I saved this tried-and-true favorite for last. Legal in all 50 states because it's too small to be considered a club, the only limitation to the hestitan is that you cannot carry it onto a plane.
The hestitan is made of metal, not plastic, so it's going to be a lot more durable and last you a lot longer. Like the other you, you don't need formal training to use is. However, I would invest in a little extra training for the hestitan since it can be incorporated into some joint lock manipulations. That gives you options. Having options gives you an increased chance for success in multiple situations. There's a reason why law enforcement likes them and trains with them.

There's only one major drawback to the hestitan: It's bulky, so concealment is going to be a factor. Outside of that, it's a great tool. It'll do a massive amount of damage even if you stick to simple hammer strikes and hit soft targets like the eyes, throat, nose, groin, etc cetera.
It feels great in your hand. Also, it's a simple shape, unlike the Bulldog. If for some reason you had to quickly grab it out of your purse/pocket/backpack, you don't need to worry about finding finger holes. You just grab and go, one of the many things I love about it. It may not puncture as readily as the Bulldog, but it could break someone's cheekbone with a single strike. That's way this makes the top of my list, options and reliability.


Conclusion
All three are great options – but just like any self-defense tool, you need to pick the one that's right for you! Don't just take my advice, get some from Century and try them out for yourself. You can't be responsible for what someone might try to do to you, but you can be responsible to how to respond to the threat when presented. That's why learning how to use one of these effectively will skyrocket your chances to being better protected and safe out in this crazy world we live in. Trust God in all things, but when the spiritual manifests in the physical then it's time to take appropriate action.
Thank you for reading and sticking with me this far! May Jesus Bless You!
Introducing Martial Arts School Listings on Black Belt Mag!
Sign Up Now To Be One Of The First School Listed In Our Database.