Century Headgear Finds Use Outside Martial Arts - As Gear for Children with Epilepsy
The author of this post wished to remain anonymous for the sake of their child with epilepsy.
I have helped the epilepsy community here in Oklahoma for 15 years. Over that time, I have seen many of the barriers individuals with epilepsy, as well as their family and caregivers, face. As the parent of a child with epilepsy, I have encountered some of them firsthand.
---
I have seen the injuries caused by falls during seizures: Black eyes, bruises on the head and body, wounds that require stitches, concussions, broken bones… and that's just a few. A seizure can happen at any moment and without warning. A fall can happen anywhere, including the bathroom, on the playground, in a car or at the store, and any object can be in the way. Protecting the head is crucial so that the person doesn't cause further injury to their brain.
My child has grand mal seizures, which are characterized by violent muscle spasms. When these seizures hit, they would cause repetitive head banging movements, and we always had to be vigilant that the sides and back of my child's head were covered. Like many families, we relied on seizure helmets to help.
However, many of these helmets that are on the market are very expensive and insurance doesn't always cover the cost. I learned that many families were using headgear from Century Martial Arts – specifically, the Brave and Tegu helmets – to protect their loved ones' heads from seizures and the consequent falls.
The epilepsy community wasn't the only one to discover Century, though. I learned that families with children who had Down syndrome were also using them. Kids with Down syndrome will sometimes bang their heads on objects, or walls or floors, and need protection for their brains.
My opinion is that these two Century helmets, the Tegu and Brave, are among the best helmets on the market. They're affordable as well.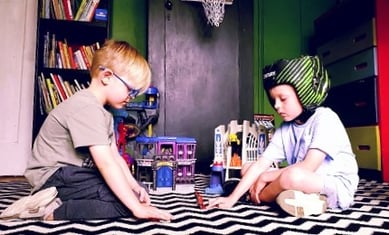 Child on the right is wearing Century Brave Youth Headgear. Note: this are not the author's children; this picture is for illustrative purposes only. Consult with a medical professional before making any decisions concerning headgear.
The Brave helmet is great for in-home use, the classroom, and walking or playing in the yard, as well as for the type of head-banging I described. From what I've seen from others in the epilepsy community, the Tegu helmet has been used by more active individuals for jogging, on the playground, and in environments where there are more hard objects and fewer adults or caretakers. The top section of the Tegu is also removable, which provides another factor for consideration: if heat is a trigger for your loved one's seizures, removing the top portion may provide better cooling while still protecting the back, forehead, and sides of the head.
Before making any headgear decision, of course, you need to look at what type of seizures your loved one has, how do they fall, how well their seizures are controlled, and what kind of environments they are in (school, playgrounds, home, etc.). I have seen and received feedback from many families that have benefited from the Century helmets and, again, they're very affordable.
Note: Always consult a medical professional before selecting headgear.
Introducing Martial Arts School Listings on Black Belt Mag!
Sign Up Now To Be One Of The First School Listed In Our Database.